2002 ❤️
Saturday, October 27, 2018 | Uncategorized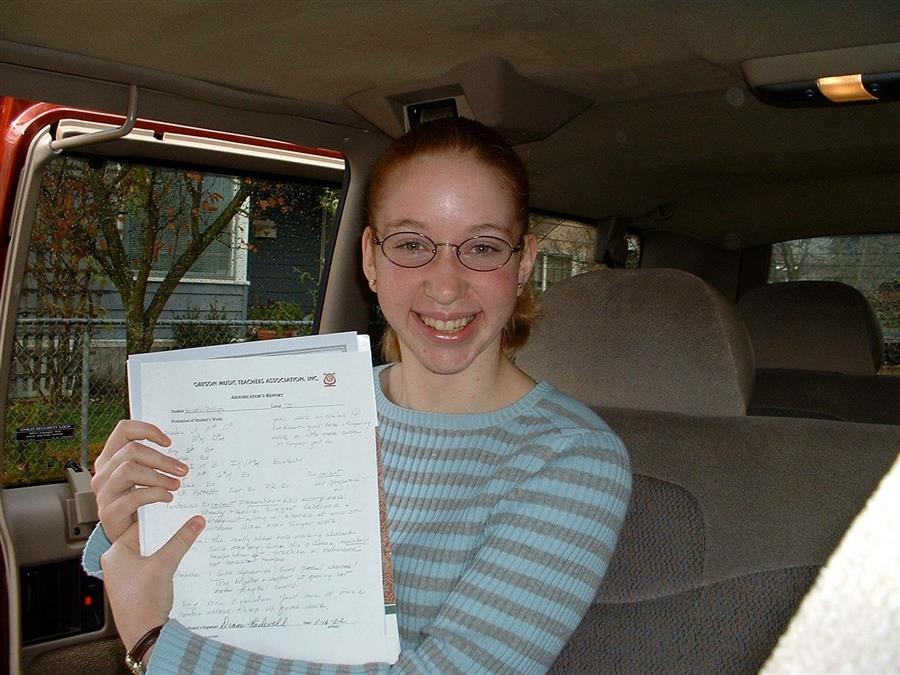 OMTA Piano Syllabus Level 6 with Honors in November 2002 (almost 16 years ago)... 8 to 11 months of intense music prep with 4 contrasting era pieces memorized to perfection (you know all those details I make you tackle and mistakes I make you fix?), and tons of scales, chords, arpeggios, cadences/progressions, chord inversions, sight reading, ear training, and theory understanding. I'm super thankful for my amazing teachers through the years! OMTA asked me to perform in the special honors recital that year, a day I'll never forget. The 2002 one was with my teacher, Hannah. ❤️

I had already completed level 4, and then went on to do level 8 with my teacher, Chantal. I miss music with these amazing ladies. Their training and love for me and the music they guided me in tackling carries over into the teacher I am today. Chantal even extended my lessons beyond the hour allotted to over 2 hours (and sometimes 3!) each week. It NEVER felt like a long time... and it was always huge to me that they'd spend the time helping me discover my love for music even more.

They (and many other music technology, voice, & piano teachers/mentors that I've had - my Mom, Nilza, Dr. Tuttle, Faith, Tami, Julie, Polly, Monica, Jeremy, Jeff, Yas, Bryan, Brian, Jason, Donna, Sharon, Shelagh, and MANY more) have made it possible for you to study piano at the studio. I'm always going to be grateful. Thank you all! ❤️
Hi Ho Cherry-O Music Game
Saturday, October 27, 2018 | Studio Blog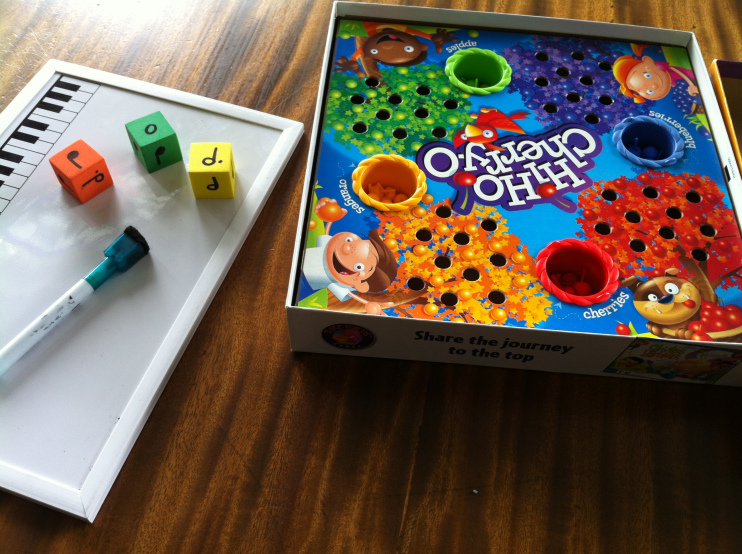 Links Involved...
---
I recently rediscovered a photo (during a student's lesson - the table under the game is in the studio) that I took of an adaptation of "Hi Ho Cherry-O", and it has been fun to see it spread quickly across Pinterest!
Hi Ho Cherry-O is a fun game for kids, available in most game & department stores, as well as Amazon (click that link) for $12.98 (with free shipping). My students enjoy the multi-color, multi-fruit option. Instead of the included spinner and puzzle, I purchased colorful cubes to label by hand. I drew 1x whole note, 1x dotted half note, 1x half note, and 3x quarter notes. A large container of them is currently available for $15.29 at Amazon. New, young students get to keep a block to use and adapt with any number of common, fun games at home. Because I play this with mostly young students, I decided to simplify the rules – accounting for only forward progress… and not use the original rules from the original version of the game, in which a player would have to return fruit to the tree. Often, students play this game before they have learned about rests or about the note names (adapt this as needed, based on the student's age & the amount of information you want to introduce each time). Generally, I start by teaching them all 4 basic notes (without the names) at the first lesson with just the counting values for a typical 4/4 time signature, without mentioning the time signature tidbit.
Time to play = 3-15 minutes, depending on how detailed & silly you make it.
Special Variation for older or more experienced students... use rests. The possibilities are endless.
---
STEPS 4 through 7 = apply in any order ♬
STEP 1: Choose Color Tree/Fruit & Block (one for each participant). Perhaps each use 2.
STEP 2: Fill the tree with fruit, so you START with your fruit in the tree. Of course, you could do a silly version where you PUT the fruit in the tree according to the roll of the block.
STEP 3: Take turns rolling your block. The more gusto, the better!
STEP 4: When the block lands with a note value facing up, together CLAP and COUNT aloud the value of the note… quarter note (1), half note (1-2 = while holding hands closed), dotted half note (1-2-3 = while holding hands closed), whole note (1-2-3-4 = while holding hands closed). You'll roll more quarter notes than the others, by simple statistics and probability, allowing for a slower game & more reinforcement of one of the most common note values. Perhaps even incorporate a metronome and music track into this activity.
STEP 5: Student then draws that note on the double-sided white board (use a simple, inexpensive one). I like to use colorful, low-odor whiteboard markers.
STEP 6: Introduce or review the NAME of the note if it isn't too much information. Be careful to gauge the student's interest & energy level and leave out this step for a lesson or two as needed. By putting names (something that can be rather tedious) into the routine of the game (something that is always fun), you'll make the entire experience interesting (memorable AND fun).
STEP 7: Student removes the correct number of fruit pieces from their tree(s) & puts them in a bucket (quarter note = 1 piece) (half note = 2 pieces) (dotted half note = 3 pieces) (whole note = 4 pieces).
STEP 8: Win! ☺ Be the first to have NO fruit left in your tree.
---
By drawing the notes on the board, students draw correlations between the clapping (action), naming notes & speaking beats (memorization, auditory), and drawing (kinesthetic, visual) processes. They'll commit the values solidly to understanding and memory, allowing for fun and easy retention of something that could otherwise be "work". Students also learn to use a variety of approaches to a music practice skill. Many of these actions can be carried over easily into music played at the piano. Ask them how they can do that...
---
It is also VERY easy to adapt this concept to other games… Candyland, Chutes & Ladders, Monopoly, Life, and MANY more. I'd love to hear your stories. Contact me privately and with your permission, I'll add your comments to this post!
Encouraging Words
Saturday, October 27, 2018 | Success
As we encourage the young musicians in our lives, we should be mindful of the actual praise terms we use.
---
In music exams, festivals, and competitions, judges/adjudicators should always...
Offer recommendations for continued musical growth.
Provide evaluation that is clear, encouraging, and educational.
Evaluate the performance without bias from other factors.
Do not let anger, ego, or fatigue affect judgement.
---
Judges/Adjudicators will often productively use...
Accurate
Articulation
Artistic
Balanced
Beautiful
Bold
Clarity
Clean
Clear
Commendable
Confident
Continuity
Controlled
Correct
Dynamic
Exact
Great
Interpretive
Intonation
Light
Masterfully
Melodic
Musical
Outstanding
Peaceful
Perfect
Phrased
Playful
Pleasing
Poised
Prepared
Quality
Relaxed
Rhythmic
Steady
Strong
Stylistic
Super
Superb
Superior
Technical
Tonal
Tunefully
Wonderful
Comments most often written in exams & by judges/adjudicators...
Don't let fingers collapse at the first joint.
Play to the bottom of the keys.
Practice slowly - no more than half-tempo.
Aim for a more refined balance.
Know thy Left Hand!
Work on the togetherness of hands.
Pedal with your ears.
Detach Left Hand (I assume this is style-specific).
Play at a more comfortable speed - especially List B (classical era)
Aim for a richer tone.
Make sure staccatos are not too short - only half the value.
More bass line.
Best Scenario (from judges & teachers)...
General Praise ("well prepared pieces!")
Very Specific Praise ("I thought your articulation in the Sonatina was excellent - you must have worked on those 2-note slurs!")
Well Worded Critique ("I heart eh forte at the end of the Tarantella, but I thought it would have been even more drastic if your other dynamics were more extreme. Have you tried a super soft piano at measure 12?")
---
Encouraging Words (for parents & family members) - always use the matching facial expressions & be sincere - your comments can make or break your child's music enjoyment - empty platitudes aren't effective.
Lovingly Support Musicians (instead of simply saying, "Good Job!")...
1. That's it!
2. You've got it"
3. Not bad!
4. I'm proud of the way you worked today.
5. Simply grand!
6. Super!
7. Exactly right
8. You're on the right track.
9. That's the best you've ever done.
10.That's right
11. You've just about got it.
12. Nice going.
13. I'm glad to see you working that way.
14. That's nice.
15. You are very good at that.
16. Great
17. Now you have it.
18. Sensational
19. Good for you
20. I knew you could do it.
21. Congratulations
22. You are doing that better today
23. WOW!
24. You're working very hard today.
25. That's quite an improvement.
26. That's the way
27. Keep working on it, you're getting better.
28. That's coming along nicely.
29. I think you've got it now.
30. Couldn't have done it better myself.
31. You are really learning a lot.
32. You did it that time.
33. Terific!
34. That is not half bad.
35. One more time and you'll have it.
36. Nice going.
37. You are getting better every day.
38. Perfect
39. You really make my job fun.
40. That's much better.
41. You are learning fast.
42. Superb!
43. Now you have figured it out.
44. Right on.
45. You didn't miss a thing.
46. That's better
47. Wonderful
48. Tremendous
49. Congratulations, you got things right.
50. Fantastic.
51. You make it look easy.
52. You've got you brain in gear today.
53. Good going.
54. You did good work today.
55. You're really going to town.
56. Marvelous
57. I like that.
58. Well, look at you go.
59. Good thinking.
60. You're doing fine.
61. Excellent.
62. That is the best ever.
63. You're a hard worker.
64. Now that is what I call a fine job.
65. That is right way to do it.
66. Much better.
67. That's better than ever.
68. That's the way to do it.
69. Good for you.
70. Keep up the good work.
71. Outstanding.
72. That was first class work.
73. Good remembering.
74. You've mastered that.
75. You figured that out fast.
76. That's great.
77. That is a good boy/girl.
78. I've never seen anyone do it better.
79. Keep on trying.
80. You sure did well today.
81. You must have been practicing.
82. I'm very proud of you.
83. Good job _________-(Name)
84. That kind of works makes me very happy.
85. You're doing beautifully.
86. You are really improving.
87. You did that very well.
88. That's really nice.
89. It's a pleasure to teach you when you work like that.
90. Now you have the hang of it.
91. You remembered.
92. You did yourself proud today.
93. Fine job.
94. You've got that down pat.
95. Keep it up.
96. That's it!
97. Way to go, ____(Name)
98. Nothing can stop you now.
99. I'm so proud of you!